Cortland Dining Receives Gold Award in National Dining Awards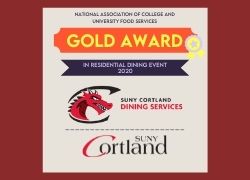 The National Association of College and University Food Services (NACUFS) has announced SUNY Cortland Dining to be the Gold Award Winner in the Residential Dining Event category of the 2020 Loyal E. Horton Dining Awards. Each year, judges from NACUFS evaluate entries from universities and colleges across the nation to determine which school has the best dining program. For the 2020 award, we submitted a book detailing our 2019 Woodstock 50th Anniversary event, but the results were just announced last week due to the pandemic.
In 2019, SUNY Cortland Dining hosted a Woodstock 50th Anniversary special event in Neubig featuring delicious themed menus, live music, and other fun activities. The event was welcomed by the campus community and we are extremely excited and honored that it is the recipient of the Gold Award in 2020's NACUFS National Dining Awards.
In addition, our retail cafe Bookmark also won a Bronze Award in the Retail Sales Concept subcategory of the 2020 National Loyal E. Horton Dining Awards. Located in the Memorial Library, Bookmark is a convenient stop for students and faculty to enjoy high-quality artisanal drinks provided by Peet's Coffee as well as baked goods and other light fare.
SUNY Cortland Dining Services prides itself on providing delicious and nutritious menu items that are globally inspired and locally connected.