Chick-N-Bap among hottest startups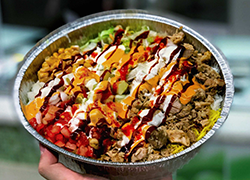 QSR magazine has included Chick-N-Bap on its 2023 40/40 List, America's Hottest Startup Fast Casuals.
The magazine said its seventh edition of the list recognizes 40 casual dining businesses with fewer than 40 locations that "we believe are on the verge of something big."
SUNY Cortland is one of five New York campus locations for Chick-N-Bap (the company has another location in Pennsylvania).
Chick-N-Bap is billed as "born in Korea, raised in New York." Founder Sung Kim, at the time a student at Binghamton University, was craving the chicken-and-rice street food with which he had grown up. Finding none in Binghamton, he began experimenting with his own recipes. At first, he sold these from his off-campus house, but in 2016, Chick-N-Bap debuted at the university's food court.
The business continues to grow, with plans to franchise with university dining operators and possibly open a brick-and-mortar location of its own.