Calling all students looking for campus jobs!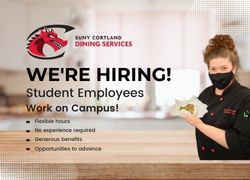 Are you passionate about food service? Apply today to work at on-campus residential dining halls and retail cafes!
We offer:
Competitive pay starting at $13.90/hour -- we do not withhold FICA tax (Social Security and Medicare) for student employees so your net pay is higher!
Free meal if you work shifts of 6 hours or more
Flexible hours with night and weekend shifts
Opportunities to advance and become student supervisors
We welcome motivated students from all backgrounds to join our award-winning team. No prior experience is required, and we will provide training to help you excel at your job.
Apply today! Fill out our 5-minute application HERE.
Please contact asc.payroll@cortland.edu for more information and questions.