Red Dragon's Delight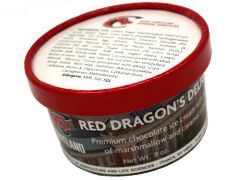 There's a sweet treat in store for SUNY Cortland students when they return to campus this fall: Red Dragon's Delight ice cream, the university's very own flavor creation.
The signature ice cream product, produced locally by Cornell Dairy, includes three key components: a chocolate ice cream base, marshmallow swirls and caramel turtle pieces. It will be served inside SUNY Cortland's two residential dining facilities, where students can use their unlimited meal plans, and also available for purchase in individual Cortland-themed containers across campus.
"We wanted this to be local and high-quality," said Jeff Scott, director of dining services for Cortland Auxiliary. "We're always trying to bring global inspiration and locally connected ingredients into our menus and programs, and this ice cream project is a fun example of that."
Faculty and staff members were treated to a soft launch of sorts at SUNY Cortland's first "Scoops of Gratitude" employee appreciation event outside Corey Union on July 14. Two additional summer ice cream socials are planned for campus community, on Wednesday, July 21, at Brockway Hall and Wednesday, July 28, at the Student Life Center from 1:30 to 3 p.m.